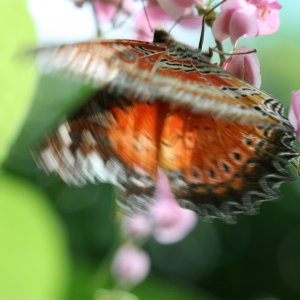 Have not been using the 100mm F2.8 Macro for quite a while since bought it last November, finally decided to bring it to the Butterfly Park at Lake Garde, Kuala Lumpur to justify my purchase decision

. It was an overcast day and it was surprisingly crowded in the Park, with mostly foreigners.
Tripod is not allowed into the Park so I was using all handheld. Have to bump the ISO up to 800 in order to be using F8 and above (for wider depth of field). Even with F8 or F11, the depth of field when doing macro is still so short, coupled with the fact that the branches/insects were moving slightly, that most of the photos taken were having the main object out of focus. But this lens is really fun to use, and when I was able to battle the focus issue for some shots, the photos turn up to be so sharp even when view in 1:1 mode without any post processing sharpening.
Tips: The listed entrance fee to the Park is RM15. Additional RM1 will be charged if bring alone camera. There is no mention of discounts for Malaysians, but locals will only need to pay RM5 when showing the MyKad to the reception. I wonder why this is not display clearly in the pricing board.
More photos here at http://travelgaia.com/gallery/ButterflyPark/
Destination Guide: The Butterfly Park is located in the Lake Garden, which is the Lung of Kuala Lumpur. The Lake Garden is only 10-15 minutes walk from the historical Merdeka Square.