| | |
| --- | --- |
| | |
| Alonso's 2 Thumbs Up – Catch me if you can | Denso's Lucy-Liu Look-alike |
My buddy Hiu got 2 Mall Area tickets at Ruby section for RM150 each on Saturday and off we went to F1 Sepang just before 2:30pm. The qualifying was already going on since 2pm and we managed to catch the actions of the 2nd half of the hour. We were happy to see Massa grabbed the pole position, trailed by Alonso, Raikkonen and Hamilton, and thought Ferrari will have a great Sunday. How wrong can we be!
F1 Sepang 2007 Photos (included some Miss F1 photos took place on 5th Apr at Berjaya Times Square):
http://travelgaia.com/gallery/F1_LR/

McLaren-Mercedes is just too good in Sunday, where Alonso and Hamilton scored the 1-2 podium finish in F1 Sepang. Kimi has to settle for 3rd place finish while Felipe a humble fifth. I am Ferrari supporter but a salute to Alonso and Hamilton to run a perfect race.
Both Saturday and Sunday were mostly very hot and humid and almost unbearable. Sunday is super pack in the Mall Area & grandstands. I went down to the Jade section with an additional ticket (spared by my boss) for some close ups of the race cars (and Alex Wurz) before the race starts, and attempted more panning shots. F1 Sepang has almost become the holy event for me as I come annually to revere (except a couple of years where I can't get cheap tickets

). The sights and sounds of the whole event are unforgetable, and top that with all the pretty (and not so pretty) chics from don't-know-where. And a nice sun tan is something to brag about in the workplace the next day

.
Food/Beverage Price: [everything is so expesive!]
– hot dog: RM15
– hot dog set: RM25 [with mineral water]
– can beer: RM16
– can Coke: RM5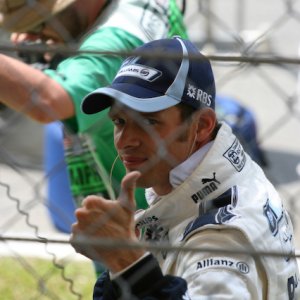 Tips:
– belongings will be checked upon entering the Grandstand area for outside food/beverage which will be confiscated, so keep the water bottle/food inside the shirt or pants' pockets, or put it into children's belongings. The guards are not checking the kids!
– Noticed that the Canon 70-200mm F4L was not sharp at F4 when I was back home reviewing photos. It became very sharp from F5.6 onwards. I learned this the hard way — quite a number of chic shots/race cars shots were taken at F4 and they are just not sharp!
– Go early to avoid the traffic jam, preferably arriving before 11am. We're stucked in the traffic jam for at least 40mins while arriving near the toll ~12 noon.
– use ear plug unless if you have heard enough the sounds of this world.
<–Alexander Wurz!