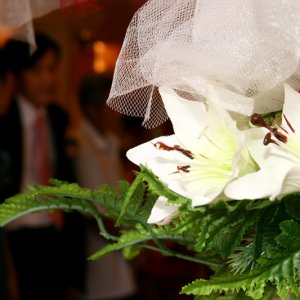 Not my wedding, not yet. Attended a colik's wedding progression last Saturday (10th Mar 2007), which involved going to the bride's family house and have the 'take the bride' ceremony, and then all went to the groom's daddy's house (which is like 70km away), then drove another 25km to another bigger town for lunch, then went back to the daddy's house. I left my home 7:30am in the morning and after all these happenings, arriving back home at 7pm — it is a weekend that more like a hard day at work.
(I will upload some photos of the bride & groom only after getting their permission)
I was the 'appointed' cameraman for the event, probably due to all the gears that I have. I am glad to have another opportunity to practise my skills anyway. I brought 2 lens, the Sigma 17-70mm and Canon 70-200mm L, along with 430EX flash. I knew that I am not going to use the 70-200mm much at these kind of event, and true enough, the white lens just sleeps in the Crumpler 7 Million Dolalr Home throughout.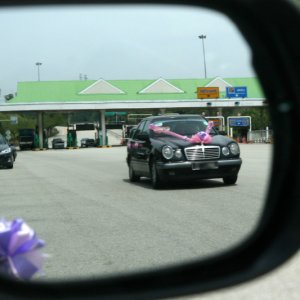 I am still new to the external flash photography and most photos turn out having the harsh flash look on the objects' face, even though I have been using the bounce flash (mostly to the ceiling at different angles). Probably it is time to source a softener. I was using M mode (underexposed) with the external flash (to compensate) for indoor shoots, but forgot to change the Av/Tv settings when moving to outdoor initially and almost totally blown a few important shots

… Most photos taken were ISO400 or 800 but the noise level is still acceptable.
So lessons learnt:
get a softener for flash, bounce seems just not good enough
check M settings when moving from indoor to outdoor shots
convert blown shots to Sepia – I tried and was able to salvage a few badly overexposed shots
Last but not least, I am truly happy for the groom and bride. 祝你地白头偕老 永结同心!