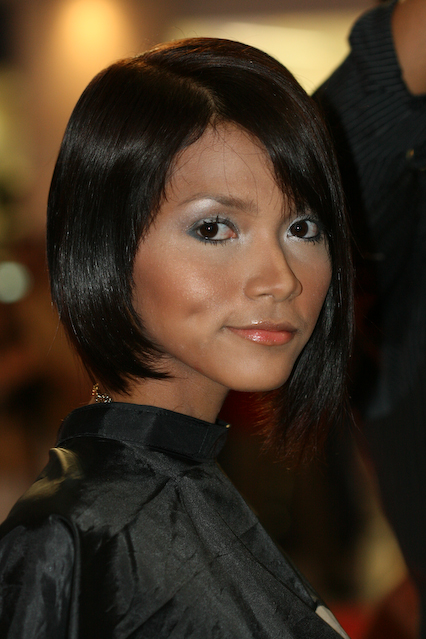 Yet another fashion show in mall, this time around at The Curve, themed 'Vivaciously Red'. It is kind of the 'in' thing to do now for the malls in town to have fashion show featuring the latest outfits from the tenants. To match the theme of the show, the walkway and some decoration rectangular window frames are in red colors. I was there for one show on Saturday (12th May), and stayed whole day on Sunday (13th May).
The shows include brand names like Uluwatu (didn't even know this has presence in Malaysia, saw tons of this shop in Bali), Elements, Key Ng, Calvin Klein Jeans, Schwarzkopf (hair salon) and some others that I can't recall. Most of the shows are quite short in duration, probably about 10mins only. The Fashion On 1 felt more classy than Vivaciously Red, but the Vivaciously Red allowed a close up photos on the models (at least on Saturday; Sunday was crowded and security chain was in place). Model wise, V.Red mostly were having locals while the Fashion On 1 has mostly non-locals. And this is my favorite model, she just has something that works for me: —>
Another revelation is actually the Canon 100mm F2.8 Macro. I switched from 70-200mm F4L to 100mm F2.8 on one instance and the photos came out from the 100mm, even at max aperture of F2.8, are really sharp — probably too sharp for portraits, but it is really a pleasant surprise. Furthermore, I was able to use ISO400 while using the 100mm lens whereas the 70-200mm F4 required ISO800 to be bright enough.
More photos here: http://travelgaia.com/gallery/V/content/index.html