Short Dive Trip to Teluk Dalam, Perhentian Besar [22nd ~ 24th July 2011]
It's been 3 years since I last dived at Perhentian Island; fond memory of Sugar Wreck is still vivid but fading. So when there are a couple of friends interested to go for a short dive trip to Perhentian over a weekend, I am in. Eventually we amass 5 persons for the trip.
We booked a dive resort – Bayu Dive Resort – at Teluk Dalam, Perhentian Besar. The online booking system is a bliss to use; I booked 2 rooms which go by fish names in just a few minutes – Moray Eel (RM90/night) is a fan room that can fit 2-3 persons just next to the generator; Pipefish (RM160/night) is one of the many air-conditioned cottages for 2 persons. Paid 25% thru credit cards and the room booking is secured.

The road trip started on the night of 21th July – 11pm we reached the Gombak toll, and off we sped via Bentong, Gua Musang and eventually Kuala Besut, arriving 5 in the morning. It is a tiring journey even if I was not the one that drives – winding roads, many buses and lorries, narrow lanes, inadequate lightings signature this major east-west highway. We arrived safely anyway to Kuala Besut and bought our speedboat tickets at MD Travel (they actually open for business at 5am with some zombie-looking guys there), one of the travel agencies near the jetty. Oh we get the roundtrip ticket at RM65, a RM5 discount from the standard price of RM70. I noticed that Kuala Besut is having many swiftlet shophouses already and more being constructed – I didn't notice this 3 years ago.
Paid the marine park fee of RM5/person, we boarded the speedboat at 7am. It fits about 15 people. The boatman distributed the life vests to everyone but somehow I didn't get one, which is fine for me. It takes 40mins to arrive at Teluk Dalam beach after the boat stops at Tunabay beach and Long Beach. It was a really pleasant morning to be by the sea and beautiful beaches.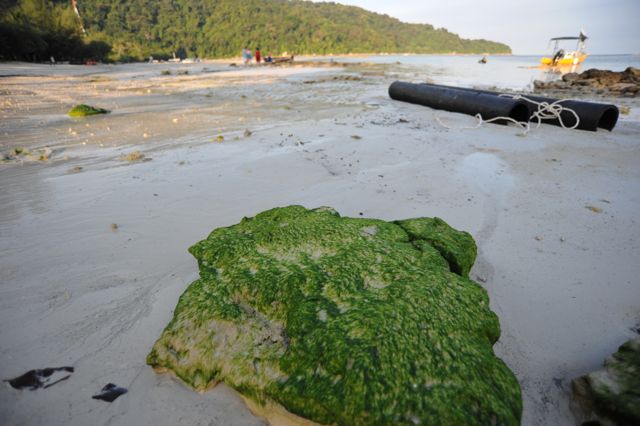 This is the first time that I come to this southern bay of Perhentian Besar, and was pleasantly surprised. It has a semi-circular beautiful beach with fine sands, and it is quiet and secluded. One thing that I immediately noticed is how shallow the beach is – for at least 30m the water is less than knee high, definitely not a good swimming hole. The boats need to painstakingly steered slowly among the shallow coral rocks to get close to the beach.
Bayu Dive Lodge is at the left side of the small jetty here just 3 minutes walk away. The dive shop attached to Bayu is Alu Alu Divers, operated and run by a group of Mat Sallehs. The restaurant of the resort is just by the beach and in front of the dive shop so it is pretty convenient. Food here is not cheap (breakfast set RM10 and up) but it comes in big portion, and it is not terribly cooked. The next door restaurant B First Cafe offers cheaper alternative, and tasted not bad either.
Alu Alu Divers offer assorted courses at reasonable price; fun dive starts at RM90/dive for 3 dives or less, RM85/dive for 4~6 dives including full sets of equipment rental. For those that have their own equipment (like me!), it will be RM70/dive. Returning customers that have taken courses here previous will get special RM60/dive deal, which is great!
The dive shop is well stocked with gears new and old ones, similar brands like most other Malaysian dive shops. The gear-up area is an alley that painted blue and yellow (like!), but nevertheless too narrow for 20 people with gears. There are 3 tanks labelled for different equipment cleaning/soaking. It will be great if the gearing up area is made wider and more spaces for people to do their stuff more comfortably.
Dive crew are generally nice; a couple of them looked reserved though. Our DM for the trip is Flo, a 19-year old from UK that just completed her DMT and had made ~600 dives. Coincidently she is making her last 2 days as DM here in Alu Alu and heading back to UK. Friendly and chatty, pretty and skinny, we have a nice time with Flo. The dive trip here at Alu Alu runs at fixed schedule: 9am and 2pm departure, 2 dives each. 4 of us are arranged to have one of the boats for ourselves – nice! They also brought enough drinking water on board, another good point. Oh and for the afternoon dives, banana cake is offered during the surface interval!
We did 2 dives that afternoon, and 2 more dives the next day morning.
Dive Sites:
T3/Terumbu Tiga/Tiger Rock: reputed as one of the best dive sites, there are some swim throughs but nothing much interesting. Saw 3 bumphead parratfish over a meter long, and that's about it. Viz is average. Max 19m, 46min.
Tukas Laut. Flo swam so fast as if she wanted to conclude the dive as soon as possible. Max 17m, 59min.
Tokong Laut: the good thing for the dive is that it is not that crowded relatively; I recalled 3 years ago the same dive site, there are easily more than 50 divers, can't see anything but fins and human. Descended with the buoy line, I waited a few minutes before Hiu able to get down – he forgot to wear the weight belt and have to pull himself down from the line. Saw a number of ugly-looking bamboo sharks, 2 of them mating with one biting another on the gill area (they actually shiver when climax, really!), school of blue & yellow fusiliers. I've seen better Tokong Laut, I have to say. Max 21m, 48min.
Sugar Wreck

max 18m, 48min.
My favorite dive site here at Perhentian by far. I could skip all others and just dive this site again and again.
Didn't see the school of long-jawed mackerels like 3 years ago, but there are huge schools of juvenile barracudas as well as sweetlips finding cover inside the wreck.
Looking up from the bottom, the titled wreck is quite large extending all the way up to ~6m.
2 giant barracudas over a meter long lurking in the huge cargo hold area
Big trapped air area at the top of the cargo hold area
Hundreds of sea urchins, tens of lion fish and porcuppine fish. One of the porcuppines is having a remora under its chin, sharing some meat.
Spotted 2 squids hovering near the huge propeller at ~6m.
Mild current on the top side of the wreck, calm otherwise. Viz is average, about 10m.
Oh we almost have the whole wreck for ourselves; I did see another group but it is definitely nowhere close to the pasar malam feel of Tokong Laut.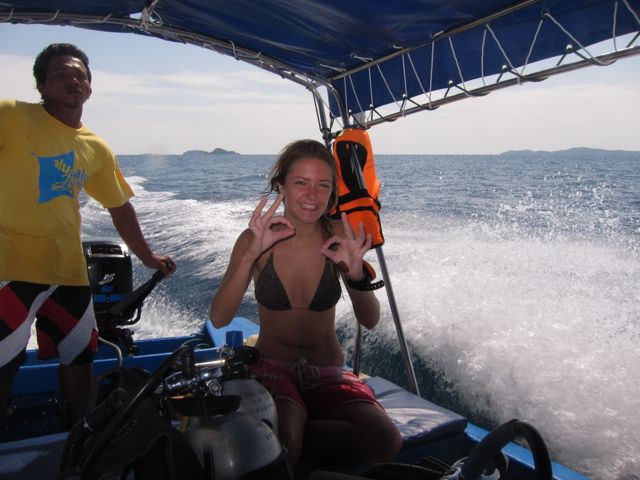 After we get done our dives on the Saturday morning, some bickering happened between the dive shop part-owner Johan and the DMs, and eventually all the DMs call it quit, packed up and left in the same afternoon. There was some gore scene as well but I will just skip that part. The dramatic turn of event happened in front of our very eyes. this alone will make the trip worthwhile!
There are a few more resorts at Teluk Dalam; 2 more notably ones. Floral Bay Resort looks more happening and more rooms/chalets with its own dive shop, Arwana Resort is on the more expensive side with some seaview/garden rooms and a swimming pool.
When we got back to KL, we got to know that most of the DMs are back to Alu Alu; Johan is kicked out from the dive shop – for now.
All in, the trip costs about RM550. Bang for the bucks, I'd say. The only regret is the diving is just average, except my holy grail dive site at Perhentian – the Sugar Wreck.
Links:
Alu Alu Diver: http://www.alualudivers.com/
Bayu Dive Lodge: http://www.bayudivelodge.com/