Ulu Yam Day Trip (Batu Dam, Sungai Tua Selangor State Park, Ulu Yam, Sg Sendat Waterfall) [26 Dec 2010]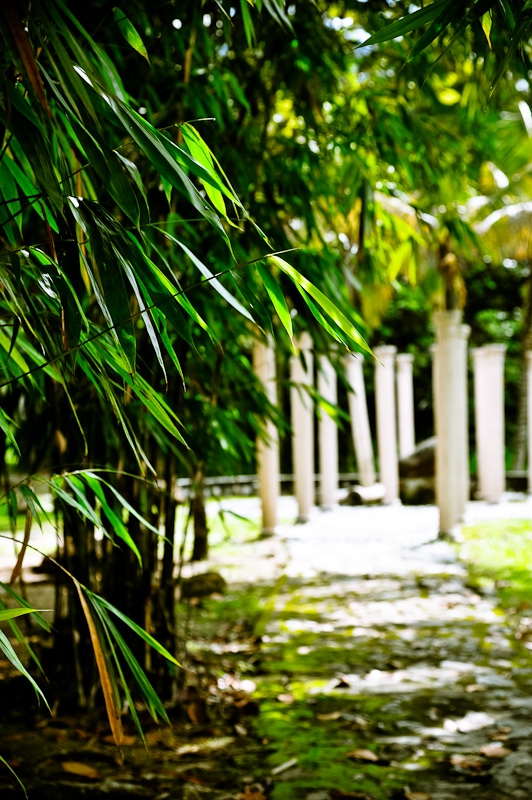 Sungai Sendat Waterfalls all of sudden become infamous in the last few days, after a family outing turned tragic where 3 youngsters were drown there on 30th Dec 2010. Incidentally, my first (and only) visit to this waterfall was just a few days before that, on the Boxing Day (26th Dec). The memory is still fresh and vivid. I am more shocked than saddened to learn about the tragic, as it reminds me again, that there is always danger lies behind waterfalls, however serene and peaceful the place presents itself.
My trip to the Sendat Waterfalls is not pre-planned – in fact, the Sunday started with "Let's go to some waterfalls near Ulu Yam!" and soon after we started our car journey from Kuala Lumpur. We have heard about the waterfalls near this area before, but we don't really know the names nor the exact locations of any of them. Upon setting the often-reliable Papago to go "Ulu Yam Lama", I found out that there is a POI nearby called "Ulu Yam Recreational Park", and decided to go check it out.
Batu Dam (it is so damn huge that GPS coordinate is unnecessary!)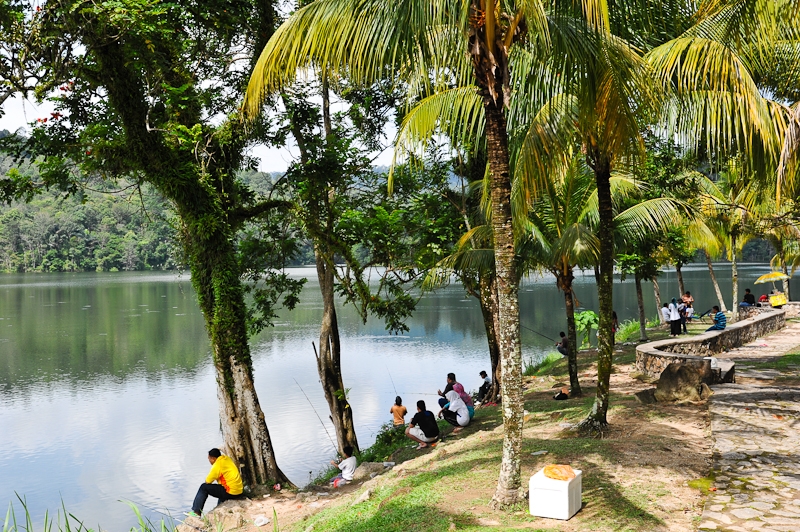 We passed through Batu Caves area before got onto Jalan Sungai Tua, which is a very long winding trunk road leading to Ulu Yam as well as Batang Kali (from which there is an alternative road to reach Genting Highlands). Not long after we got on this road, we were greeted by a huge Batu Dam at the left side of the road. We stopped by at a parking area, took some photos while many others are gathered here trying to make fish as one of the dishes on their dinner table – we saw a Malay guy caught a foot-and-a-half long catfish. Most, if not all, of the anglers are Malays.
Sungai Tua Selangor State Park (GPS: E 101.698060, N 3.312240)
The "Ulu Yam Recreational Park" in the Papago map turns out to be the "Selangor State Park", aka "Hutan Lipur Sungai Tua". It is on the right side of the road. We parked our car in the already-packed parking area, paid RM1 each at the entrance, and walk in to have a look-see. There is a shallow rocky river runs through the place, with some huts built along it for picnic and resting purpose. The place is already crowded – again, mostly Malays – by the time we reached at noon. Kids amd adults alike are having great time in the shallow river while the elderly are preparing food – some groups are even doing camping and BBQ-ing! It is a perfect family outing destination as the river is a bit wild but shallow enough to make it a safe water hole for children.
We walked around the park on the walking paths, enjoying the rainforest and nature, but deep down, we know this is not it. We want waterfalls! After checking out the place for a while, we decided to explore somewhere else. The park itself is really nice and has a lot to offer – the lush rainforest, a suspending canopy bridge, a wide and shallow river for getting wet and chill out, but there is one main setback – the toilet does not have water supply, and I don't even want to describe further. Come on State Park, the RM1 entrance fee you collected from each of us is more than enough to get the toilet fixed. Do something, please?
In the quest to find a real waterfall around here, we went back out and ask at the entrance. The guy told us that just a few minutes further up the road, there is a waterfall at the left side of the road. We are elated and drove up. We passed by another entrance to the same park just less than a couple of minutes at the right side. And not long after that, we arrived at the so-called "waterfall". It turns out to be a very small waterfall and pool just beside the road, accessible through steep decent (stairs/rocks?), with a small parking space at the other side of the road. We didn't stop by here because this is not what we come for – we want at least a decent waterfall after driving all the way here from KL.
Ulu Yam Lama Lor Mee @ Hock Choon Kee 福春记 (GPS: E 101.640734, N 3.454876)
A search in Papago showed that there is a nearby waterfall called Sendat Waterfall, which is 5km from Ulu Yam Baru. We decided to go Ulu Yam Lama for the famous "Lor Mee" (卤面) before heading to the waterfall. Ulu Yam Lama is just a few kilometer from Baru, both being very small town. Ulu Yam Lama is like literally having a main street only, and that's it. Along the main street, there are easily more than 5 restaurants selling Lor Mee. Not knowing which one is the best, we headed to "Hock Choon Kee" (福春记). It is of course customary to order the Ulu-Yam-famous Lor Mee for 2 persons, and to go with that, a plate of fish cake too.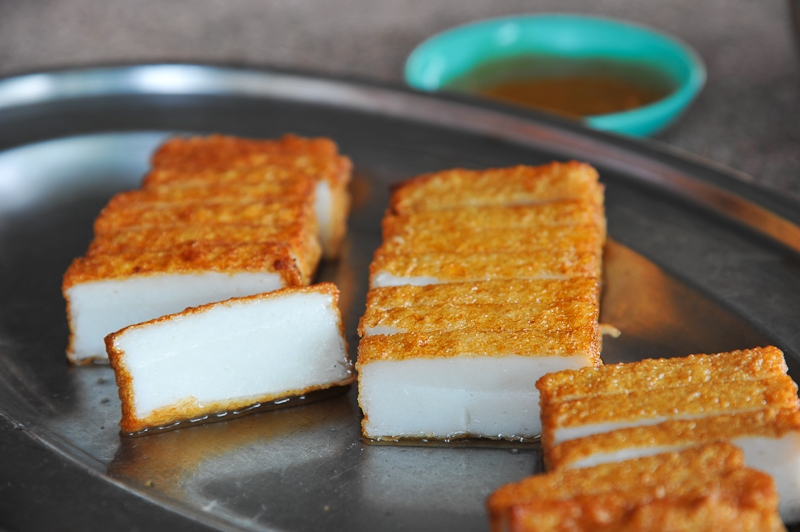 The restaurant is full house at 1:30pm that day, giving us the impression that it must be good, which we later found out it is not the case. We waited for quite a while before the fish cake came. It was just fine, chewy enough but the chilli sauce is too watery. The Lor Mee came much later probably due to the crowd, but it is a real disappointment. It came in a pretty dark soup which is not as thick as the Lor Mee that I get used to in KL. The mee looks like it was home-made here, to me it tastes just OK – nothing special compared to other Lor Mee that I've used to. The biggest complaint is that the whole bowl of Lor Mee for 2 persons, there is only 2 small shrimps, 4 small pieces of pork, and some vege. So it is just Mee. and more Mee. It is just boring. The bill comes to RM20 for 2 persons, not particularly cheap considering the rural-ness of the place. My advice? Try another shop!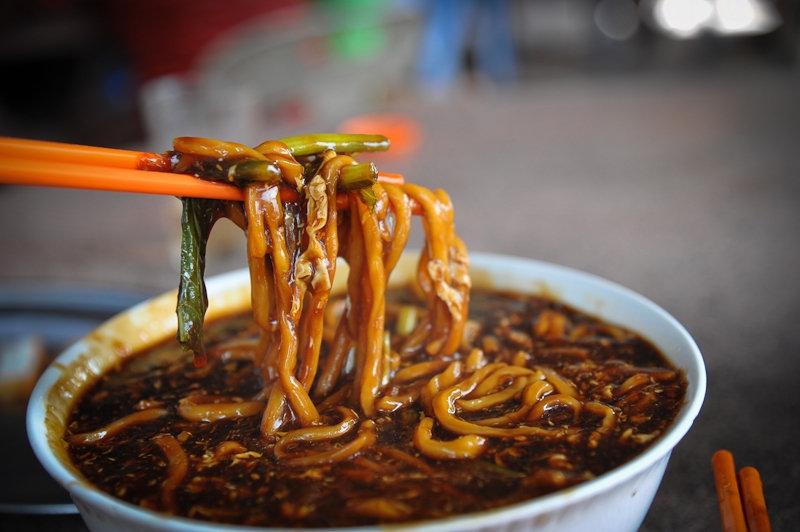 Sungai Sendat Waterfall
(GPS: E 101.685380, N 3.403280)
We finally arrived here after a short drive from Ulu Yam Baru. There is a sign board at Ulu Yam Baru so just follow it if you don't have GPS. Take note that the last stretch of the road of a few kilometers is un-tarred narrow jungle trails, need to drive extra cautious. Entrance fee is again RM1/person. There is a big parking area on the greens and – pleasantly surprised – a functioning toilet facility! I don't expect so many people here in this waterfall – I'd say over a hundred people here at that time.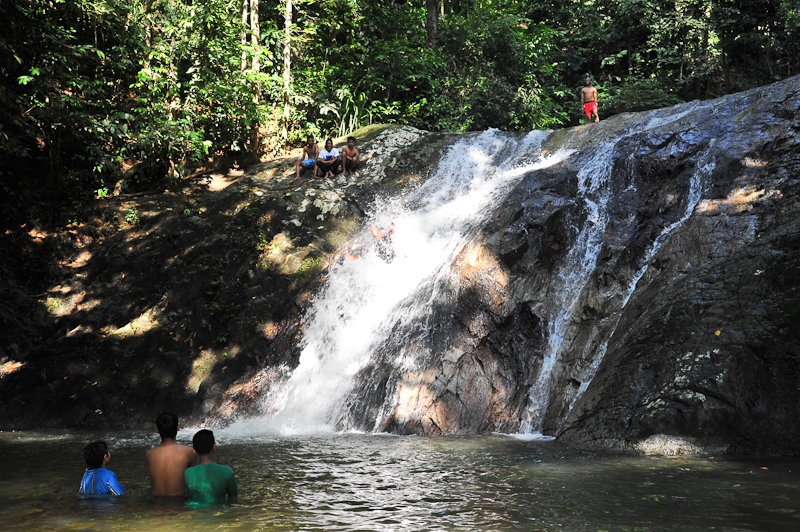 The cascaded waterfall forms a good size of pool at the lower level. The deepest at this lower level pool is about 8-10 feet, while mostly at 3-5 feet depth further away from the waterfall. The water is chilling especially at the time that we went in after 3pm. The rocky surface of the waterfall forms a natural slider as we saw quite a few of youngsters sliding down from top. I am just too chicken to try it out.
Apparently on the top level, there is a pool too but we didn't explore up there at that time. We had some fun time playing in the pool, until it is just too cold to swim anymore in the water that we say adios. All in all a very pleasant trip other than some minor bickering (which I am not ready to disclose here :-p).
It is hard to fathom a place like this can be so deadly that caused 3 dead just a few days after our visit. Play within our own limits when dealing with water sports and activities – that's what I gather from the tragedy.