Y Thao Garden – what USD10 can buy you in Hue City?
Highly recommended by 2 travel guide books (Lonely Planet & Hong Kong published 长空旅游系列 021 - 越南食玩买终极天书本2010˜˜2011 全新Update版), we dropped in Y Thao Garden for our first dinner in Hue, Vietnam. We've had a long day – woke up at 4am, flew from HCMC to Hue at 6am flight, and then just in time to sign up last-minute on the 8am Perfume River Cruise day tour upon checking into Binh Minh Sunrise Hotel – and now just couldn't wait to have a good dinner and unwind.
It was July 17th 2010, a Saturday. Far away from home.
Restaurant Name: Y Thao Garden
Location: 3 Thach Han, the Citadel, Hue, Vietnam
GPS: 16.468009,107.567117 (click for Google Map location)
It is just a 10-minute cab ride from the hotel. The restaurant is set in a mansion surrounded by tropical garden with lush of green, which is welcoming. Walking straight in, no one was there at the reception to greet us. We walked around and took some photos of the tropical garden, and after like forever (well, 2 minutes but felt like forever) the waitress showed up and lead us to one of the 2 main dining halls, which were both without any diners at that time (~6pm).
The restaurant runs set menu, and there is only one lone set – take it or leave it – that costs USD10 (not inclusive of beverages). No À la carte whatsoever. Ordered 2 sets and a couple of local bottled Huda Beer, we set off to take more photos of the beautiful garden. More after the fold.
It didn't take long for the first dish to come – it is fried spring rolls on toothpick poking on the back of a peacock with its head carved from carrot, and body from a pineapple. Nice presentation but the spring rolls are far from the best that we have had in Vietnam – they are not bad, really. Genuis about serving this dish first is actually the toothpicks which I can use throughout the meal. Of course we didn't eat the peacock head (carrot) – the whole peacock probably will be recycled for the next table…
And here goes the subsequent dishes:
Verdict?
The food is actually not bad but portion is small – note that both of us shared the 4 shrimps, the small plate of lotus steam rice & grill beef and "mix fig salad with pork and shrimp". It is more like a food tasting than a full fledged fill-your-stomach meal. It is also by far the most expensive meal that we have had in Vietnam. That said, if you are visiting Hue City, I'd still recommend this restaurant – just lower your expectation, and you will have a wonderful evening here. Forget about "imperial cuisine", I wouldn't want to become the Emperor if these are the best food on plate.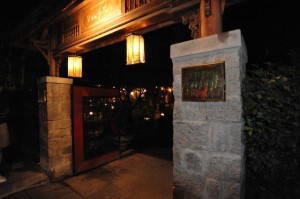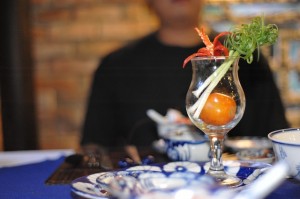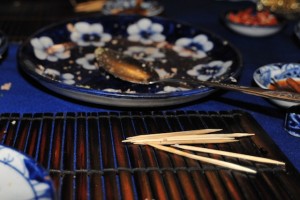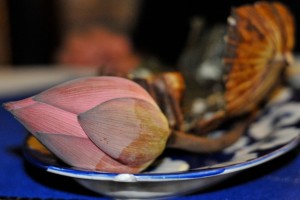 Happy dining!